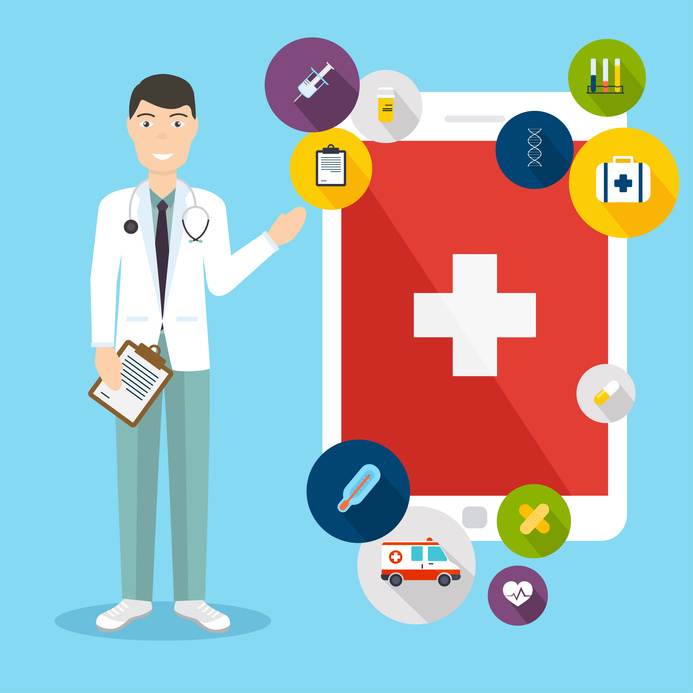 A Kantar Media survey earlier this year among doctors practicing in the US found that as many as 84% of them were already using their smartphones for work-related purposes. 56% of the polled doctors were using tablets (the electronic kind!) and it's fair to say many would be using both. A particularly interesting insight from the survey was what the doctors were using their devices for. The overwhelming number used the mobile for help in diagnosis – either tools for the purpose (73%) or apps or journals for clinical or drug reference (64%). This is, of course, not surprising – the primary concern of doctors has always been providing the highest quality care to their patients and they have historically also been accustomed to checking back with specialised reference material when faced with tricky questions.
Clearly this is a valid (& worthy) use of the power of mobility but is there an, even more, active role for the mobile in the life and work of doctors? We believe the answer is yes. When "Medical Economics" listed the top issues physicians would likely face in 2015 they put "Administrative burden" at the very top. An Easy Pay survey more or less agreed with 90% of the polled doctors saying "Financial Management" was among their top 3 headaches and 88% of them adding "Finding enough time to spend with patients" to that list. Doctors everywhere are being slowly but surely overwhelmed with issues related with running their business, records and financial management and paperwork in general. In fact, the "Practice Profitability Index" reported that in 2014 70% of physicians were spending more than 1 day each week on paperwork – time that they would much rather spend taking care of patients. So how can the mobile step up in helping hard-working physicians manage their practice better and more profitably?
Patient Management
With the increase in the use of Electronic Medical Records, there is a lot of information about the patients being treated that can be accessed from online databases (assuming one has the security clearance) through the mobile. This includes the detailed patient history of past visits to the current as well as other doctors, procedures they have undergone, allergies and other pre-existing conditions. This allows the doctor to get a much more comprehensive view of the patient and potentially could help them diagnose and prescribe better.
Case management
No more rooting around for paper files and struggling to queue up the file to reach the doctor's table along with the patient on a return visit. The Mobile can be used effectively to tag the complaint and all discussions, diagnosis, prescriptions, test results and notes for future reference can be tied into the tag associated with the case. When the patient meets the doctor all that has to be done is to dig deeper into the patient's EHR and the entire case history can be available for viewing.
Appointment Management
This seems to be one of those perennial bugbears for small and medium practices. Scheduling appointments, matching with the calendar of the doctor's in the practice, trying to maintain continuity in case of repeat patient visits, sending reminders and logging confirmations for the appointments – these are all effort-intensive administrative tasks that take up a lot of time when done manually. Mobile apps and tools can take this burden quite easily and automate much of the headache out of this process.
Billing & Financial Management
This is not just a question of making sure bills are raised on time and payments received from the patients and logged. Much of the healthcare cost today is borne by the large payers, insurance companies, the VA and so on. Any slack on the part of the doctor or the practice in billing could lead to cash flow issues and possible financial hardship. Then there is the compliance and audit requirement to consider – many doctors and small practices are not familiar with what the rules are and how they work. This is where a good mobile based financial management app or tool can play a key role. The money still has to be collected, but at least, there are easier ways to know exactly what has to be billed, how it is to recorded, how much money has been collected and perhaps most critically how much money is yet to come in.
Referral Management
The doctor functions as one part of an eco-system with multiple players who all have inputs into the care the patient receives. There may be a need for specific tests in diagnostic labs, referrals to specialists, drugs to be procured and administered and perhaps specialised care to be provided to immobile patients in their home. There are clinical as well as commercial considerations tied up with each of these conversations and keeping track of them can be made much easier if all the players are part of a unified healthcare platform or eco-system. Mobile based solutions today are already setting out to make much of this possible.
The mobile and more specifically the smartphone is being used by most people and doctors in so many other facets of their life and this seems to be easing the pain of adoption. Jonathan Linkous, the CEO of the American Telemedicine Association put it quite well recently, "A mobile device is not necessarily a healthcare device, it can be anything that people use for communicating, and then it can also be used for healthcare, and that's why it's been very useful. You're not always having to invent new technology, or always having to invent new ways of connecting people, you're just adding on to technology that's already been deployed." So when you next hear that a "Doctor is on call" it could mean she's on the mobile.